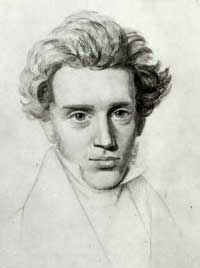 I have been intrigued by existentialist thought ever since my college years when I was exposed to the writings of its proponents.
Although it has found a variety of diverse expressions (which makes it difficult to define in succinct fashion), existentialism, as a system of thought, places the focus on the existence of the individual person as a free moral agent. Existentialism further maintains that one's existence is essentially a personal journey of self-understanding and self-realization in which the individual person is called upon to respond to a wide variety of experiences, emotions, relationships, and circumstances. Such an emphasis upon individual and experiential existence places existentialism in stark contrast with rationalism (which locates all truth in the realm of the intellectual and deductive) and empiricism (which locates all truth in the realm of the tangibly discernable).
Existentialism stresses that one's EXISTENCE precedes one's ESSENCE, meaning that one's essence is not a predetermined reality. Rather, according to existentialist thought, one's essence is formed by the decisions, priorities, and actions of one's individual pilgrimage (or existence).
My favorite existentialist thinker is Soren Kierkegaard (1813-1855), who, as a Christ-follower, brought to existentialism a uniquely Christocentric focus. In his classic book, "Either/Or," Kierkegaard offers an observation that has haunted me for years—one that captures the existential lostness from which, according to Kierkegaard, all of us are longing to be delivered:
This is what is sad when one contemplates human life, that so many live out their lives in quiet lostness…they live, as it were, away from themselves and vanish like shadows. Their immortal souls are blown away, and they are not disquieted by the question of its immortality, because they are already disintegrated before they die.
(from "Either/Or," vol. 2, "Balance Between Esthetic and Ethical")
Kierkegaard's description of this existential lostness is inseparably connected to his soteriology (his doctrine of salvation). For Kierkegaard, as a Christian existentialist, being lost means being separated from our authentic selves in such a way that we "vanish like shadows." Likewise, for Kierkegaard, being "saved" means making the decisions and engaging in the actions that will enable us to become authentically ourselves (authentically, in other words, who we were created to be).
Why am I raising the issue of existentialist thought in the middle of a mild-mannered blog post? Simply because I just watched what can only be described as an existentialist film, one that sheds important light upon one man's existential crisis and subsequent search for meaning.
The film I am describing is "Up in the Air," director and co-writer Jason Reitman's clever and insightful cinematic treatment of one man's discovery of his own lostness. The film features George Clooney portraying Ryan Bingham, a well-paid and well-traveled corporate hatchet man who has made a career out of informing people that they are fired.
The problem is that the difficult responsibilities of his career have forced Bingham into an isolated existence (one that he has protected for years with casual sex, alienated relationships, and an excessive pattern of traveling that prevents him from having to stay in one place for too long). Left unanswered is this compelling question: Did Bingham became a corporate hatchet man because of his proclivity to social isolation, or did he become socially isolated because of his career? The moviegoer is left to formulate his or her own conclusions concerning the order of this existential progression.
Three factors compel Bingham to question everything that his life has become. First, his company discovers that people can be fired much more cheaply via the medium of online conferencing, meaning that Bingham's weekly traveling (a key component of his identity) is no longer a necessity. Second, Bingham develops a reluctant friendship with Natalie Keener (played by Anna Kendrick), an aspiring corporate climber whose cold-hearted ambition unsettles Bingham and compels him to reflect upon his own priorities and motivations. Third, much to his dismay, Bingham begins to experience an emotional connection (and subsequent vulnerability) in his relationship with the striking Alex Goran (brought to vibrant life by Vera Farmiga), another frequent traveler who awakens Bingham to the emotional depths that his life choices have prevented him from experiencing.
In the early portion of the film, Bingham's favorite and foundational image is the image of an empty backpack, which serves as a metaphor for the unencumbered and emotionally streamlined life that he thinks he wants. As the film progresses, however, Bingham's "empty backpack" becomes as oppressive as Jacob Marley's chain. He begins to realize that the weight of emptiness is far more crippling and debilitating than the weight of authentic intimacy.
But can one make an existential change in the middle of one's life? Will a backpack that has been shaped by its emptiness be able to accommodate the accumulation of unfamiliar baggage? Will the people and circumstances in one's life permit such a conversion? And will it last? These are the important questions that "Up in the Air" addresses. As a title, "Up in the Air" describes, not only the extensive traveling of the main character, but the uncertain status of his existential pilgrimage.
After seeing the film, I find myself examining the content of my own backpack. What relationships are in there? What vocational decisions? What hopes and dreams and prayers? What regrets and failures? Which heavy items in the backpack are authentically mine to carry, and which items do I keep in there because of my stubborn refusal to throw them away? Is my backpack as meaningfully filled as it could be, or is it cluttered and poorly packed? Do I utilize my backpack for the purpose of traveling to redemptive places, or do I utilize it for the purpose of running away?
These are the existential questions in which I am living today. They are questions that pave the way from Kierkegaard to Clooney, from philosophical exploration to cinematic realism. Most importantly, they are questions that demand the attention of anyone who longs to be truly self-aware and self-actualized, which is the goal, not only of the existentialist, but the holistic Christ-follower.